In this blog post, we're kicking off a series of concise tutorials that dive into the ins and outs of using the CameraPixels app, a powerful photography tool tailored for iOS users. While CameraPixels offers unmatched versatility and control, it may initially seem a bit complex. Our aim is to guide you through these tutorials, helping you harness the full photographic potential of CameraPixels on your iOS device.
Upon installing CameraPixels, you'll encounter a crucial step during your first app launch – granting necessary permissions. While not all permissions are mandatory, disabling some of them will limit the app's capabilities. During your initial CameraPixels launch, you'll be prompted to allow or deny the following permissions:
Camera – an essential permission. If you disable this, CameraPixels will become unusable, and you'll see a black viewfinder.
Photos – another must-have permission. Without it, CameraPixels won't be able to save the photos and videos you capture. You'll notice the absence of your media in the camera roll if this permission is turned off.
Microphone – though not mandatory, it's semi-required. Disabling this permission will prevent CameraPixels from recording audio during video capture.
Additionally, the Location permission is requested only when you activate the Location feature in CameraPixels' settings page. This permission enables CameraPixels to embed location information into your captured media. If you decide to turn it off, the app won't utilize location data in your photos and videos.
If you've either turned off a vital permission or just want to check the status of permissions granted to CameraPixels, you can do so through your iOS device's Settings app. Navigate to the Settings app and scroll down until you locate CameraPixels. Once you've selected the CameraPixels item, you'll find a comprehensive list of all the permissions configured for the app: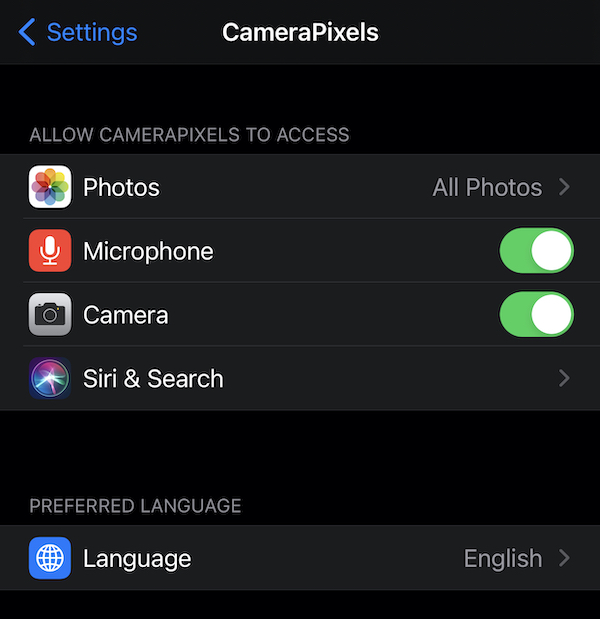 Basic elements of the User Interface
CameraPixels follows a familiar and user-friendly User Interface (UI) layout, akin to many other photography apps.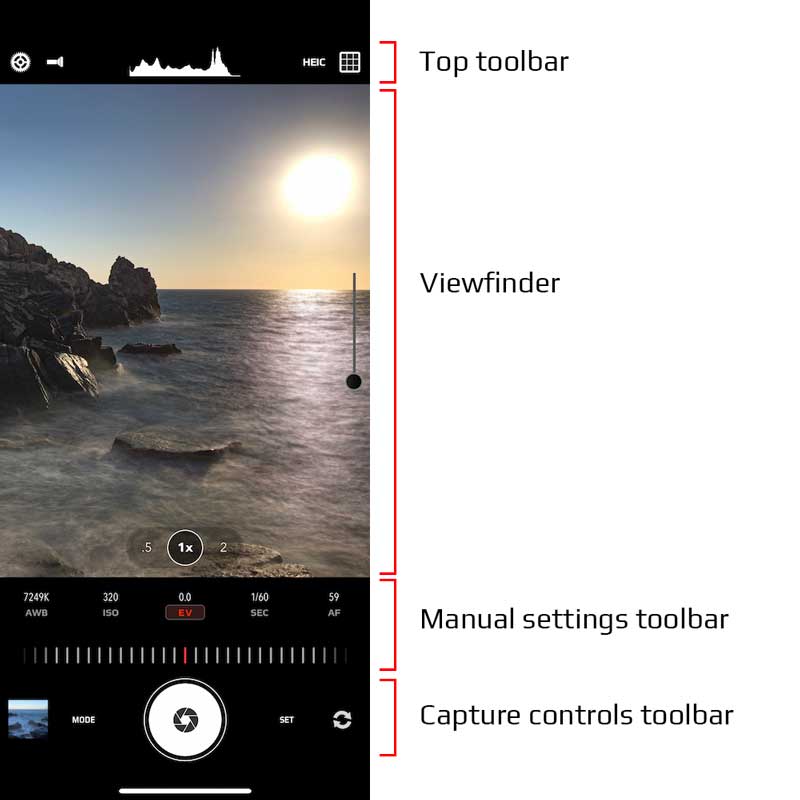 The screen is logically divided into four distinct areas, making it easy to navigate and use:
Top toolbar: this essential section houses frequently used controls that you'll want to access easily. For instance, you can quickly check the status of your device's flash and output media format to prevent any unexpected surprises.
Viewfinder: the primary area where you'll frame and capture your shots.
Manual settings toolbar: this toolbar provides access to various manual settings, allowing you to fine-tune your photography experience.
Capture controls toolbar: in this section, you'll find controls and options related to capturing photos and videos.
Top toolbar
Within the top toolbar, you'll discover controls that are conveniently accessible and frequently used right on your screen. This area ensures you can swiftly check vital information, such as the status of your device's flash and the selected output media format, preventing any unwelcome surprises during your photography sessions. Moreover, from the top toolbar, you can effortlessly access CameraPixels' global settings and choose from different grid types to enhance your framing and composition.

When you press a button on this top toolbar, it seamlessly opens a related popup dialog, like the Flash/Torch dialog, providing access to additional settings and options for a more tailored photography experience.
Viewfinder
The viewfinder serves as your window to the live scene you're capturing in CameraPixels. What sets it apart is its touch-sensitive capabilities, allowing for intuitive interaction. Here's how you can make the most of the viewfinder's features:
Single-tap with one finger: Easily alter the focus and exposure points by tapping on the screen, provided these settings are accessible at that moment.
Single-tap with two fingers: This gesture is designed for splitting focus and exposure points, granting you precise control over these critical aspects of your shot.
Press and drag: When the focus and exposure points are split, performing a press-and-drag action on the corresponding reticle (circle for exposure and square for focus) enables you to reposition it independently from the other reticle. This grants you the flexibility to fine-tune focus and exposure points individually.
Double-tap: To reset focus and exposure points and set them to auto mode, simply perform a double-tap. This feature ensures quick and hassle-free adjustments for your photography needs. CameraPixels' touch-sensitive viewfinder empowers you to capture the perfect shot with ease and precision.
Manual settings toolbar
True to its name, the manual settings toolbar provides you with the means to take control of your camera's parameters. You can easily adjust essential settings like white balance, ISO, and shutter speed to tailor your photography experience to your liking.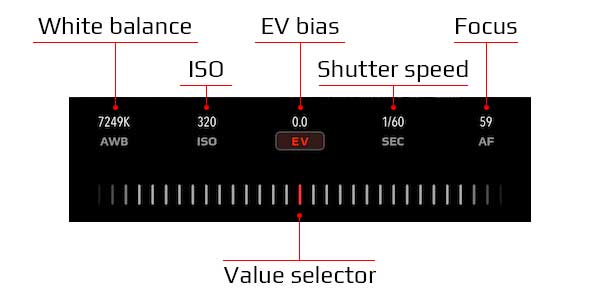 Initially, all settings are configured in auto-mode, with the camera making automatic adjustments based on the prevailing lighting conditions and distance. However, with the manual settings toolbar at your disposal, you have the freedom to fine-tune these parameters to capture the perfect shot, just the way you envision it.
Capture controls toolbar
The Capture Controls Toolbar is your go-to hub for unleashing the full potential of your camera, offering seamless control over a wide array of features and functions. Whether you're aiming to snap a perfect picture, initiate or halt video recording, switch between various capture modes, or fine-tune your camera settings, this versatile toolbar has you covered. Additionally, you can effortlessly switch between the front and back cameras for greater flexibility and creativity.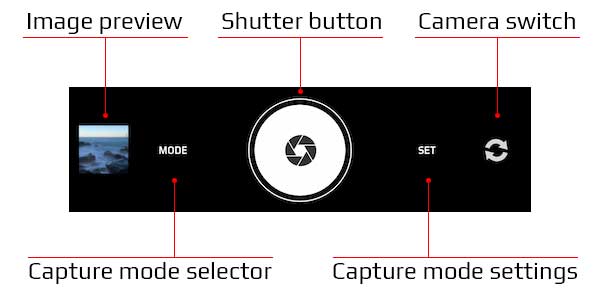 Additional elements of the User Interface
Your CameraPixels experience is designed to adapt seamlessly to your settings and device capabilities. Depending on these factors, you may find additional UI elements displayed on the screen to enhance your photography journey.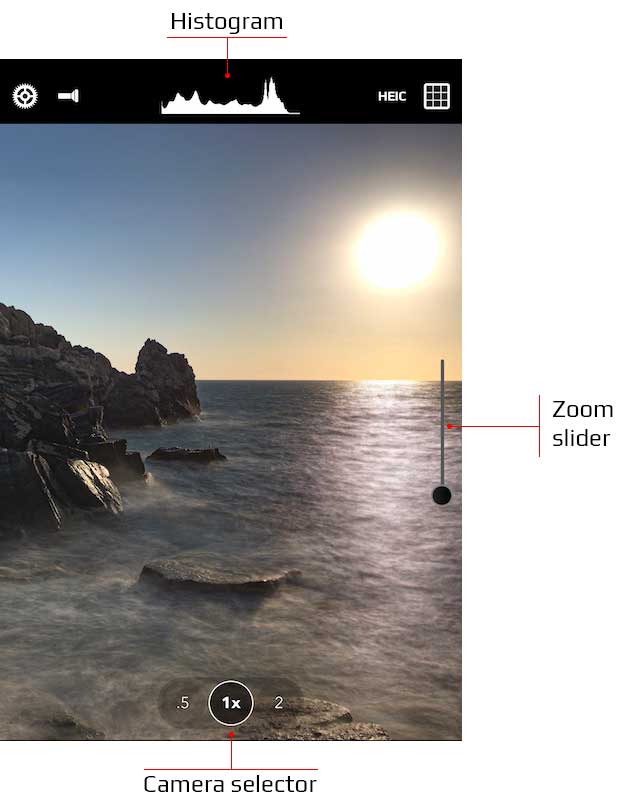 The histogram and zoom slider are thoughtfully enabled by default, ensuring they are readily accessible on your screen. However, their visibility may vary depending on whether your device's underlying hardware supports these features.
For those wielding dual and triple-camera devices, such as the iPhone 7 Plus, iPhone 8 Plus, iPhone X, iPhone 11, and more, the camera selector becomes available. This feature allows you to switch between the different camera lenses, expanding your creative horizons and capturing the perfect shot for any occasion. CameraPixels tailors its interface to accommodate your specific device and settings, ensuring a customized and user-friendly experience.
Conclusion
In this instructive tutorial, we've delved into the essential permissions needed for CameraPixels and the potential constraints that may arise if some permissions are disabled. We've also provided you with a glimpse of CameraPixels' user interface, highlighting the core elements gracing your screen.
As we embark on the next tutorial, we'll guide you through the process of setting up CameraPixels. This will include selecting your preferred language, accessing the Quick User Guide, and discovering how to reach out to our support team. Stay tuned for a comprehensive guide to make the most of your CameraPixels experience!